NOPA, the farm-to-table mainstay in San Francisco's neighborhood of the same name, has long remained quietly, consistently ahead of the curve. The restaurant was among the first of its kind to make Divisadero Street a dining destination, and has sourced 80% of ingredients from local farms since opening its doors in 2006.
"If it's not at the market, we're not using it," says Chef Laurence Jossel. "It keeps us hyper-seasonal."
Jossel has been buying from many of the same producers since he moved to San Francisco and opened his first restaurant, Chez Nous, in the 1990s. At that time, farmers' markets were for the general public, not for chefs, and Jossel's requests for cases of vegetables were met with raised eyebrows. Now, markets offer chef parking and access permits that make it easy for them to shop the markets. That's a boon for the restaurants and the farmers, who can sell their product at scale.
"Farmers are there because of us," Jossel says. "We make up a large part of the buying power now in the market. It's very much mutually beneficial."
There's an art to building, growing, and nurturing relationships between chefs and producers, so we asked Jossel how he makes it work. Here are his best practices for folks on both sides of the deal.
Best Practices for Restaurants
Become a regular
The culinary teams at NOPA and Nopalito – an organic Mexican restaurant Jossel opened in 2009 with Chef Gonzalo Guzmán – visit five Bay Area farmers' markets every week, from Berkeley and Marin to the San Francisco Ferry Plaza. That means they see the same farmers on a regular basis and know most of them by name. Frequent face time and long-lasting relationships give the chefs time to build trust and friendship with vendors, who know they can count on their business.
"No matter what's going on, every Tuesday in Berkeley, I go to Billy Bob's Orchard and buy a lug of apples," says Jossel. He buys cucumbers from Ed George of Peach Farm, whom he describes as "really funny, and really fair – I'll buy something from Ed just because it's a good deal." Peppers and cauliflower come from Maria Catalan of Catalan Family Farms, a partner since NOPA's opening who's "a huggy kind of sweet." Tomatoes from Sydney at Off-Beet Farms are a more recent discovery. "I want her to do well because I love her enthusiasm," he says.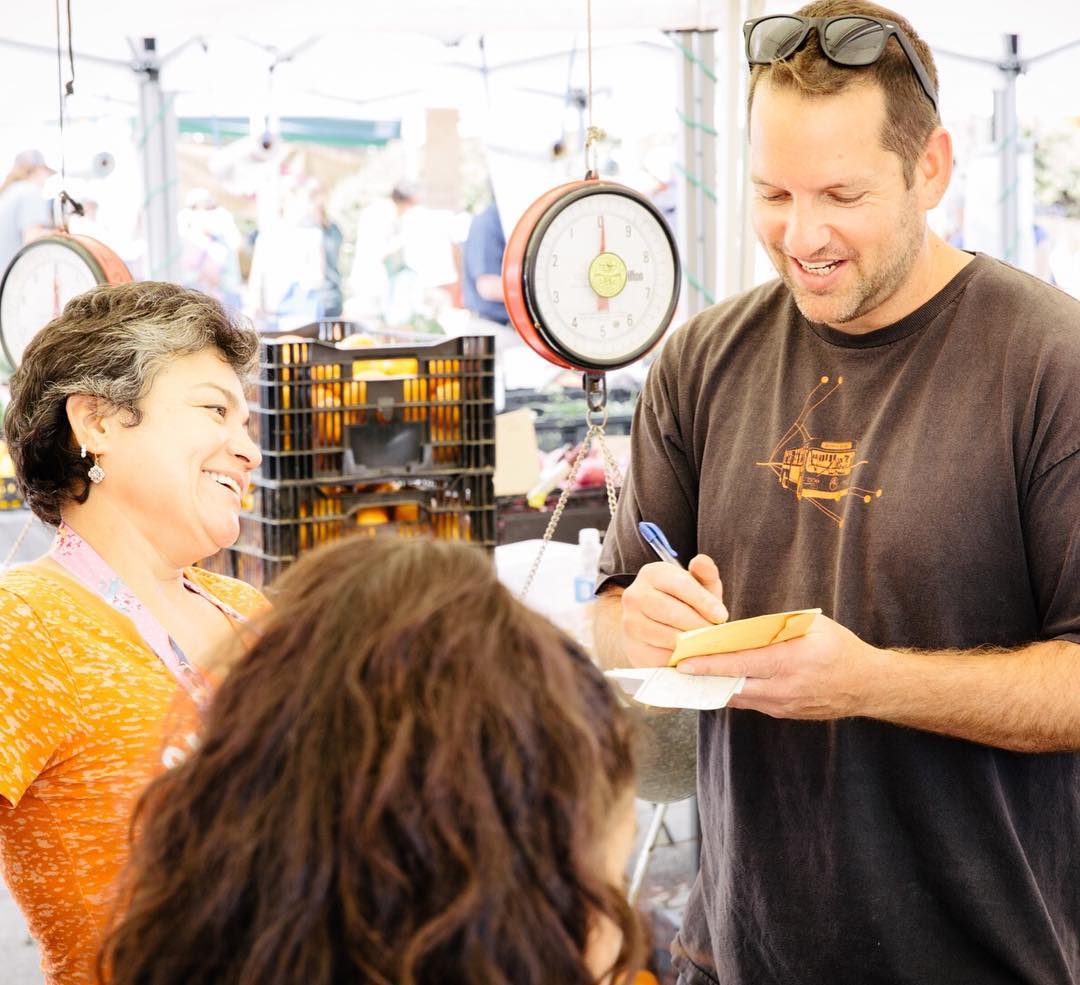 That kind of trust gives Jossel and his team access to product that might otherwise be off limits. Case in point: he's allowed to rummage around in the back of vendors' trucks because they know he'll be careful and clean up after himself.
Buy at scale
It's not unusual for Jossel to point at a farmers' market table full of produce and ask to buy the whole thing. He purchases whole hogs from Llano Seco to make porchetta and bacon, 20-pound cases of Dirty Girl tomatoes, and 50-pound boxes of Billy Bob's apples. "I figure out a way to use them," he says. Not only is buying in bulk economical for the restaurant, it's good for the farmer, who can unload a lot fresh product quickly.
He's also had farmers grow special varieties of beans or squash after committing in advance to buy the whole crop. "The farmer gets a little funky," he says – and the restaurants get a unique menu item.
Pay fairly and on time
Jossel is firm on one point: "I never haggle. You're never going to be dragging a check from me. I know that money is important, and we get it into your hands right away."
He also prioritizes quality over cost. After more than two decades in the industry, he insists on paying a fair price. Sometimes, if a farmer charges too little, Jossel will pay above asking price. "I'll just write a bigger number on a check, because I know what it's worth, and it's worth more than they're getting," he says. "I always want it to be equitable."
"I never haggle. You're never going to be dragging a check from me."
Talk them up
When Jossel finds a great farmer or producer, he makes a point to spread the love. "I've got a big mouth," he laughs. For example, he recently discovered a new chicken farmer, Pasturebird, and he's vowed to tell the world about them.
Recommendations and testimonials can go a long way in a tight-knit industry. Jossel sees the same chef at the market every week, and the first thing they do is ask each other for the best chicken, corn, pasta, you name it. "It's all just references," he says. When a new vendor walks through the door and another chef can vouch for them, Jossel is likely to listen. Even if the product isn't right for NOPA or Nopalito – say, escargot – he can point them in the right direction. "Let me call La Folie. Hey, Roland!"
Invite them in
When a vendor comes into NOPA with a delivery, they're greeted with a glass of water and an invitation to family meal. The restaurant also offers a discount to farmers who dine at the restaurant. That's because they want their partners to see how the kitchen uses their product and to feel part of a bigger community.
In fact, the team holds regular Complete the Circle events: They bring a farmer, rancher, producer or winemaker into the restaurant and prepare lunch using the product. "We buy it from them, and then we feed it back to them," says Jossel. The visiting vendor will walk them through a typical day: What happens at 6 a.m.? When does the day end? "We start to get to an understanding."
Best Practices for Vendors
Honor your agreement
When Jossel stops working with a vendor, it's usually because a policy was broken. To put it simply: "You said you were going to do this, and you didn't do it."
He notes that while farmers may be skilled at growing food, not all excel at distribution. Sometimes vendors fail to deliver on schedule, putting the kitchen in a bind. "We're trusting that stuff will come in that day, and if it doesn't, then we're out of sorts."
It's not just when farmers follow through, but also how that matters. Delivering orders with the right specs – produce quantities, protein cuts, and the like – will help avoid surprises.  
Be consistent
In a restaurant, product consistency is critical. Jossel might taste some amazing cherries one week, then order two cases the following week to find they have a completely different flavor. Also common is what he calls the "switch and bait" on market tables, when producers will sample their ripest, most beautiful produce, which doesn't quite represent the contents of the boxes below.  
He gets it: every crop is different. Still, be honest and set expectations with your partners. He says, "I really respect farms that will say to me, I brought it because I picked it, and I had to do it. But you don't want these."
See the big picture
Jossel knows he might save money by working with distributors rather than individual farmers and producers, but that's not the point. Ultimately, quality is top priority.
One way for vendors to show chefs that they're interested in a long-term relationship is to offer a small discount on bulk orders. Jossel says that if he buys a whole table full of product and a farmer cuts the price, even just a little bit, "you're showing me that you're interested in the relationships rather than just the money here and now." When farmers ask the sticker price for bulk orders, or make a point to collect on $2 price differences, it proves they haven't seen the big picture.
Go the extra mile (or step)
Even though chefs visit farmers' markets regularly, they also rely on partners to deliver, especially for proteins or heavy, bulk items like onions. NOPA and Nopalito see hundreds of deliveries and form relationships with drivers the same way they do with farmers.
Nopalito's 9th Avenue location has stairs leading up to the door – "the worst stairs in the world," Laurence says. When people are willing to haul ingredients up to the restaurant, it makes a big difference. "It's really great when someone can do that."
Show hospitality
To connect with a new restaurant, Jossel says vendors should email or call at appropriate times – not at 7:30 on a Friday night. "You'd be surprised," he says. Visiting in person helps, too, and gives both parties a chance to get to know each other. If farmers come to dine at NOPA or Nopalito to see what the restaurants are all about, even better.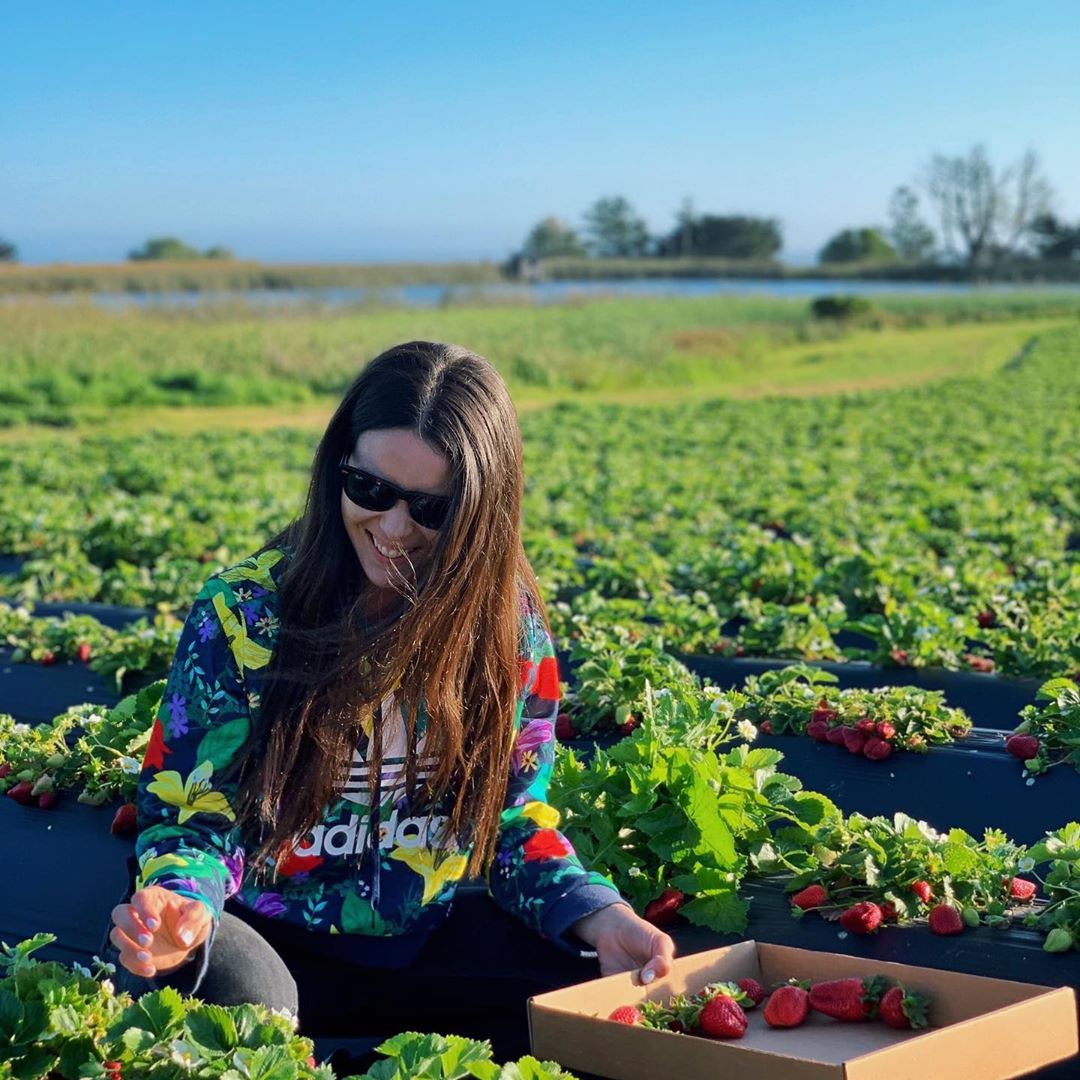 Jossel also spends time with his partners on their farms. He's taken his team up north for hoedowns with Full Belly Farms, and Maria Catalan's team has cooked for his staff. "The relationships are the most important part."