As restaurants and stores shutter amid the coronavirus pandemic, the entire food supply chain feels the impact – including wholesalers, distributors, and small farms and producers. We surveyed* wholesale business owners to learn how the crisis has affected them, from sales and cash flow to staffing and new distribution models. Read on for takeaways.

Coronavirus has brought on a massive decline in sales.
No surprise here: More than 70% of respondents said they have seen a "massive" decline in sales, defined as a 75%+ drop in weekly sales volume. Another 14% described their sales decline as "significant," with a drop between 25% and 75%. Take seafood distributor TwoXSea, for example – their wholesale orders have plummeted 90% since the outbreak.
On a more positive note, another 14% of business owners said they have actually seen an increase in sales due to the pandemic. Operators of a northern California ranch noted that while their wholesale business has dropped, CSA sales have grown 16%. Fogline Farm's Caleb Barron also shared that his retail sales have spiked significantly since shelter-in-place orders took effect.
Wholesalers expect cash flow to dry up.
When asked if they expect customers to pay differently under the current circumstances, more than half (52%) of respondents answered that they expect customers to stop paying altogether. Only 14% anticipated no changes to payment behavior.
A purveyor that sells to a number of large food service distributors said, "I can't trust them to pay anymore," For others, success collecting payment varies from week to week.
Some companies are trying new approaches to encourage customers to pay. One specialty goods distributor offers restaurants the option to pay half of their invoices now, and half in the future, to keep cash flow active.
Mike Laurita, owner of Denver-based Italco added that communication is critical right now. If a customer suspects payment may be delayed, it's best to talk through the options and develop a plan together. Since everyone is facing the same challenges, partners will likely be accommodating.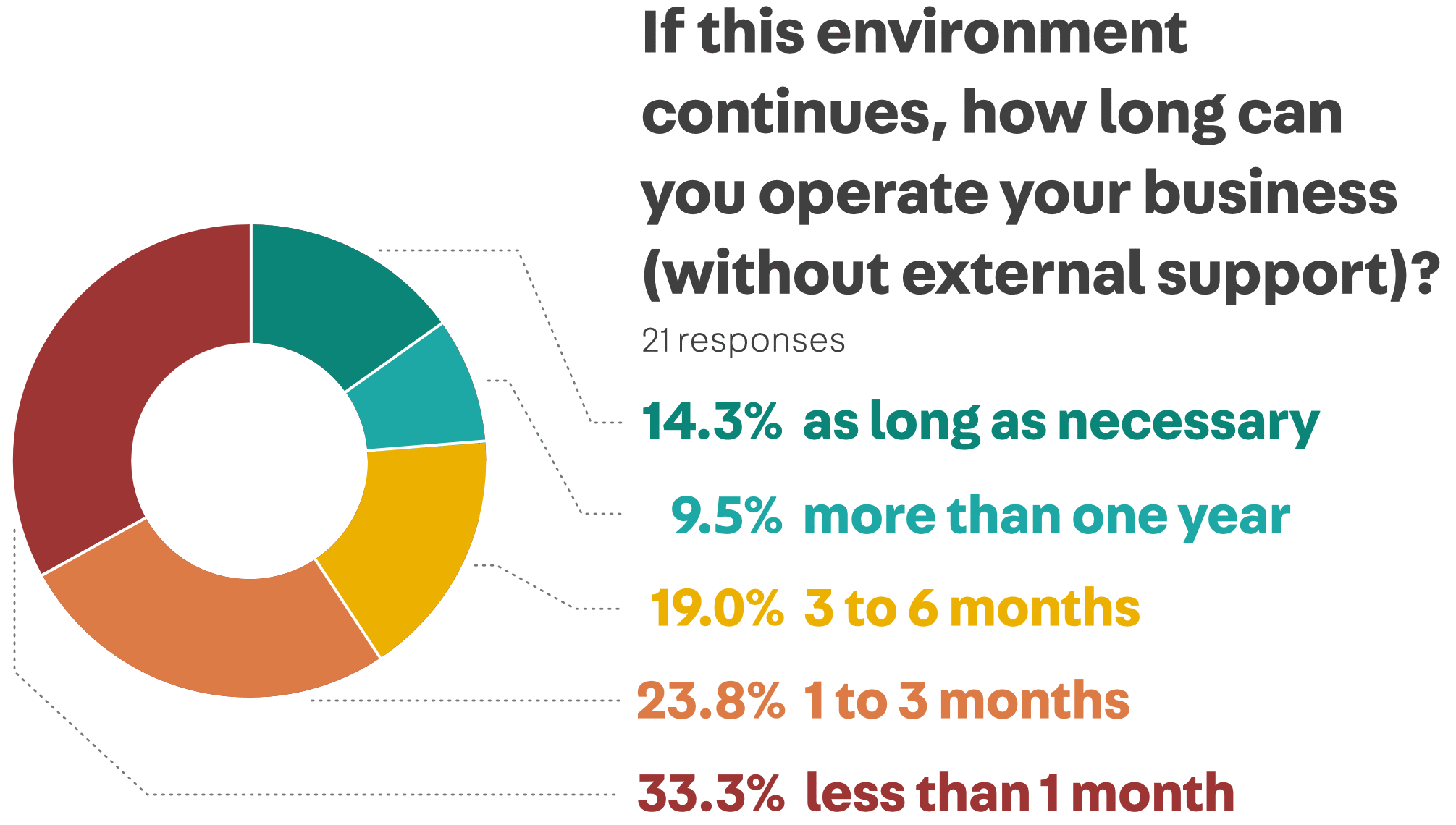 More than half of wholesalers believe they will go out of business if the current environment doesn't improve.
57% of survey respondents said that they will not be able to operate their businesses for more than three months under these conditions. Of those who expected more longevity, almost 20% said they would close within six months.
"We cannot make it alone," said one seafood business operator. "We need the support of the government." See our guide to SBA loan applications here.
Most distributors have made significant staffing changes.
More than half of respondents (52%) have laid off some or all of their staff during this economic crisis. Four Star Seafood, for example, cut its 45-person team down to eight, while Cream Co. Meats has furloughed more than half of its staff.
Still, nearly a third (29%) of companies expect to make no changes to their team structure. With a bump in retail business, Fogline Farm is giving staff more hours to work.
Companies are adapting with new revenue streams.
68% of wholesalers have begun selling direct to consumers in light of restaurant closures, including Fogline Farm, Italco, Four Star Seafood, Cream Co. Meats, and TwoXSea, among others. More than half (58%) are focusing on retail and grocery.
"As with many, we have had to re-think, re-create, re-invent our business as much as possible," said a Bay Area fruit grower. "Not knowing when this will end is very stressful."
Added another respondent: "Even though we have shifted our sales efforts to target retail specifically, there are significantly less options available for fresh businesses."
Read more interviews with producers and distributors navigating the COVID-19 crisis here.
*Survey based on 21 responses from mostly small businesses, including distributors, producers, and farms selling to restaurants and grocery stores (90% of respondents earned less than $5 million in annual revenue). Product mix includes produce, meat, seafood, dry grocery, beverage, cheese, and baked goods.